Selecting the Right PVC Twin-Screw Pelletizing Extruder for Optimal Production
Selecting the Right PVC Twin-Screw Pelletizing Extruder for Optimal Production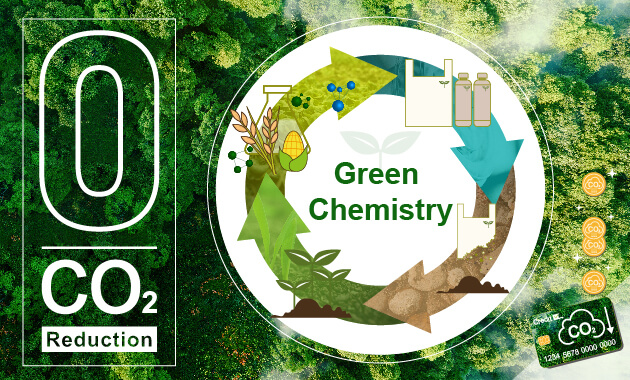 Polyvinyl chloride (PVC) ranks as the world's third most used synthetic plastic polymer, represented by an annual production of around 40 million tons. Its non-flammable, stable, durable, and cost-effective characteristics have resulted in widespread use in food packaging, children's toys, and medical supplies. Nevertheless, PVC's production process results in substantial greenhouse gas emissions, posing a challenge to net-zero carbon objectives.

To effectively move toward net-zero carbon goals, renewable biomaterials like starch can replace petrochemical plastics. These biomaterials, which include starch and cellulose, are not only a sustainable alternative but also allow producers/users to accrue carbon credits. However, the blending of PVC and renewable biomaterials can introduce issues like uneven mixing, degradation, or subpar product quality. The distinct properties of PVC, cellulose, and recycled materials, require selecting compatible processing components for pellet production lines or specific materials.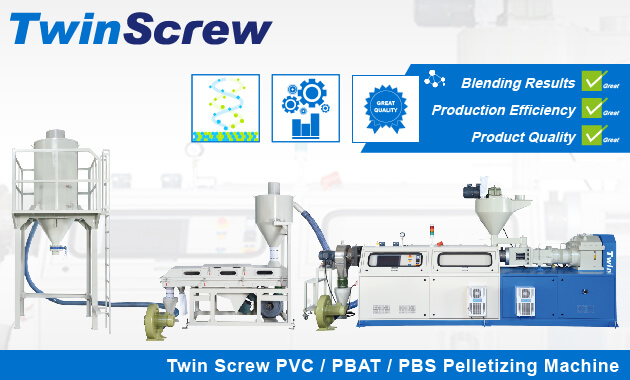 In the PVC pelletizing process, melt extruders, whether single-screw or twin-screw, are commonly used. When handling high production outputs, twin-screw extruders prove more energy-efficient and effective due to the dual blending capabilities as well as lower horsepower to achieve desired outputs. Overall,

twin-screw extruders deliver superior blending results, production efficiency, and product quality, making these machines especially suitable for large-scale production and demanding applications.



Twin-screw extruders possess the following features:
| | |
| --- | --- |
| | 1. Highly effective blending capability: |
| | Twin-screw extruders excel at uniformly mixing additives, fillers, and materials into plastic, ensuring product uniformity and quality, and preventing yellowing in the melting of PVC. |
| | |
| --- | --- |
| | 2. Superior plasticization ability: |
| | Twin-screw extruders possess ample cutting force and heating capacity, which effectively plasticizes plastic raw materials to meet extrusion requirements. |
| | |
| --- | --- |
| | 3. High production capacity and efficiency: |
| | Twin-screw extruders feature greater production capacity. They generally deliver improved production efficiency due to expanded processing capabilities and enhanced blending performance. |
| | |
| --- | --- |
| | 4. Stable temperature control: |
| | Reliable temperature control is an essential feature of twin-screw extruders. This ensures consistent plasticization of plastic raw materials at the proper temperature, resulting in uniform product quality. |
| | |
| --- | --- |
| | 5. Durability: |
| | Due to the large force generated to extrude PVC and potential use of highly dense materials, twin-screw extruders can bear substantial wear resistance. This ensures long-term, stable operation and a longer machine lifespan. |
These features unique to twin-screw extruders translate to effective blending, plasticizing, and extrusion of plastic raw materials while maintaining high production efficiency and product quality.

For more information:
Beginner's Guide to PVC Pelletizing Extrusion Lines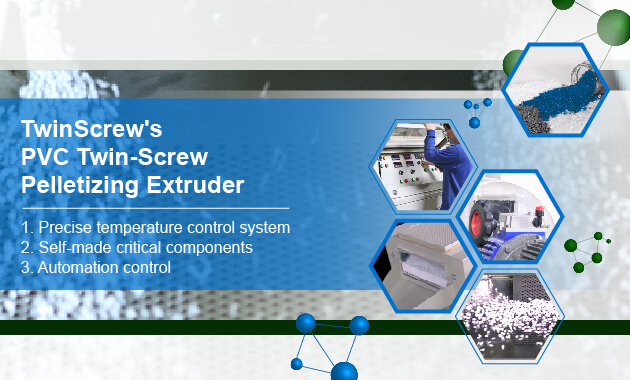 We at TwinScrew leverage advance technology and processes to provide "PVC Twin-Screw Pelletizing Extruder." Our extruder excels at maintaining precise temperatures, we make critical components of the extruder in house, and we offer automation programs to address quality control issues in PVC blending:
| | |
| --- | --- |
| | 1. Precise temperature control system: |
| | Our extruder utilizes 12-24 segments of PID control, combined with multiple cooling measures such as oil and air cooling. This combined technology accurately manages melt temperature to ensure consistent and stable pellet production. |
| | |
| --- | --- |
| | 2. Critical components made in-house: |
| | TwinScrew's screws, barrels, and other essential components are produced in-house with high-quality materials from Germany or Japan. This allows for customized designs, including screw and barrel structure, dimensions, materials, surface treatments, and more. We are able to meet customers' diverse product specifications. |
| | |
| --- | --- |
| | 3. Automation control: |
| | Employing PLC language controllers to comprehensively oversee screw speed, temperature, and pressure, this combined approach reduces manual labor, enhances production efficiency, and increases pellet quality. |
TwinScrew's extensive experience in the development and manufacturing of "PVC Twin-Screw Extruders," coupled with innovative solutions to facilitate blending PVC and renewable biomaterials, means that we are firmly aligned with the target of net-zero carbon in the future. To learn more, please feel free to contact us at

[email protected]

. We welcome your comments and feedback on our innovative technology and any opportunities for collaboration!


Inquiry :
https://www.twinscrew.net/tw/contact.html

BACK TO TOP