As the application of plastics and rubber continues to expand, the Chinese see incredible growth potential and value in participating in the market. Both government and private companies in China have invested heavily on it, from adapting technology for production to quickly entering the market with a small-profit-margin and high-volume sales approach. In this context, how should Taiwan's machinery industry face the impact?
TwinScrew Industrial Co., Ltd. provides examples that meet this challenge head-on. In addition to offering their advanced, "Twin Screw parallel counter-rotating extruder" technology, TwinScrew applies three major strategies to exceed customer expectations, maintain a strong share in the global market, and firmly gain international buyers' recognition and support.
The three strategies behind TwinScrew's successful position in the market include product quality, customer service, and sustainable management.
Quality is priority, technology paves the way.
In February 2023, a Chinese customer inquired with TwinScrew about purchasing a pair of screw and barrel for their TW-90 profile extrusion line which purchased 28 years ago for cable trunk. TwinScrew learned that the customer was not the original buyer and inquired an extra back-up for emergencies. In 28 years, the TW-90 machine undergone once replacement (of screws and barrel) and routine maintenance. Recently, it experienced severe wear and tear, significantly affecting production quality. The customer preferred to replace parts with products that are easily sourced, with less strict tolerance requirements to avoid halting production. However, the machine required increasing support, the customer desired to purchase the spare parts to resume efficient production again. They tried the information at nameplate and check with all the contacts they have then finally reached out to TwinScrew to seek a sustainable solution. Because the original design and quality were of rigorous standards, the machine, with two owners, has continued to operate for nearly 30 years, only requiring maintenance, adjustment, and partial part upgrades. TwinScrew was able to bring the machine back to reliable working condition, earning the Chinese customer's appreciation.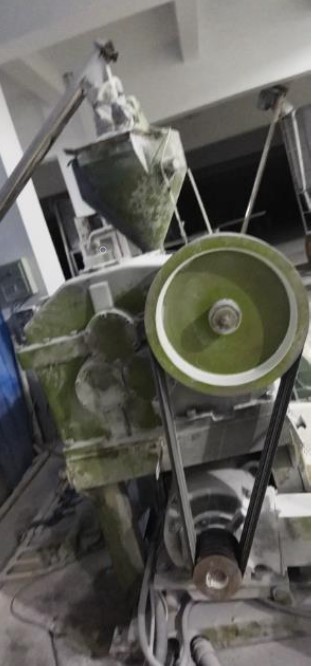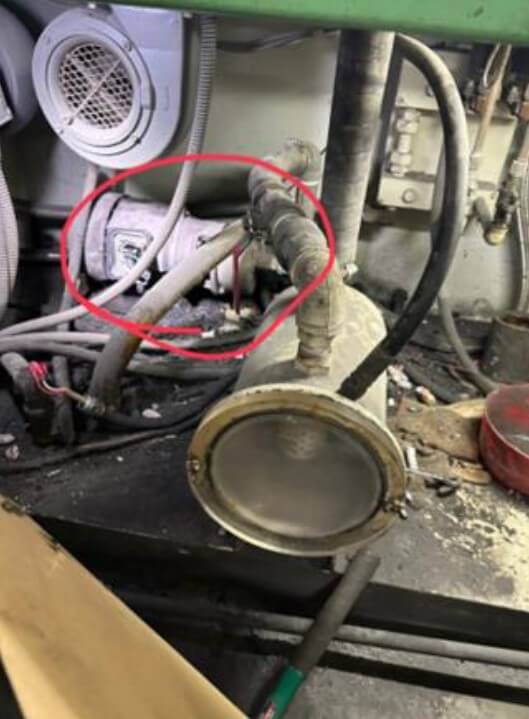 Efficient service for customers' satisfaction.
Concerning domestic customers, TwinScrew can deliver service smoothly and quickly, with the option of providing on-site visits. However, in what ways can TwinScrew overcome the distance to make remote customers feel satisfied? In March 2023, a Japanese customer informed that the vacuum function of their TWP-130 pipe extrusion (manufactured in 2005) was not performing properly, resulting in inferior quality in the product output. The customer had to stop the production, but hoped TwinScrew could quickly solve the problem. Without the ability to make an on-site inspection, through online communication, TwinScrew provided step-by-step instructions for the customer to disassemble and conduct a thorough inspection of the machine. The result was that the machine can continue to operate without replacingany parts. The customer was amazed by TwinScrew's effective remote service and happy about the resulting budget savings. TwinScrew prioritizes protecting the customer's interest, empathizes with customers, and breaks through barriers of distance to demonstrate excellent customer support!
Understanding customers' is a pillar of corporate sustainability.
Customers' needs drive TwinScrew's performance, their affirmation solidifies confidence in our products and services. By fulfilling customers' needs and joining hands with them, a sustainable partnership is thus achieved. In February 2023, a customer reported on TwinScrew's pelletizer extrusion, which was purchased 17 years ago. In the past, the customer's management did not want to be tied to a single machine supplier. Therefore, the customer separately ordered machines from two other suppliers. However, last year during a 2023 annual budget review, a production manager reports to that as of today, TwinScrew's TWP-90 pelletizer extrusion can still operate several formulas smoothly requiring simple updates and maintenance. Additionally, the report mentioned the machine's reasonable maintenance costs and TwinScrew's peace-of-mind service. The customer's general manager was won over and approved placing new orders, of which TwinScrew has completed delivery and installation. TwinScrew's philosophy of prioritizing the customer's needs has resulted in sustainable business operation in the long term.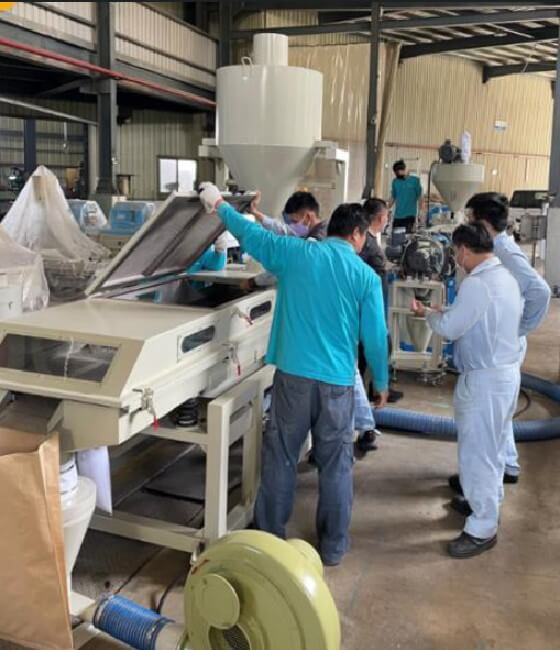 For years, TwinScrew insists on providing high-quality product and service, thereby establishing long-term, stable relationships with customers. In addition to controlling the quality of machinery, TwinScrew also pays attention to the trends in plastics, continuously improve its machine technology to keep up with market changes. As a member of the plastic processing industry, in addition to sustainable business operation, TwinScrew considers with significant importance the policy of achieving net-zero carbon and environmental sustainability by 2025. For example, TwinScrew's new company plans include improving machine technology to enable blending biodegradable materials such as starch- or cellulose-based granules with fossil polymers such as PE, PP, and TPU have been developed.
TwinScrew's R&D has mastered the technology of recycled materials and conducted in-depth research to design a high-efficiency, high-stability, low-energy consumption, and even customizable pelletizing extrusion equipment. The customizable feature allows direct processing and blending of plastic pellets. This allows customers to produce plastic products that meet environmental protection requirements as well as achieving a carbon emission reduction plan that is implemented at machine level. TwinScrew's technology development enables customers to expand into green markets, capture the niche market of carbon-reduced products, and enhance added value of their products. TwinScrew collaborates with customers to become partners in sustainable development.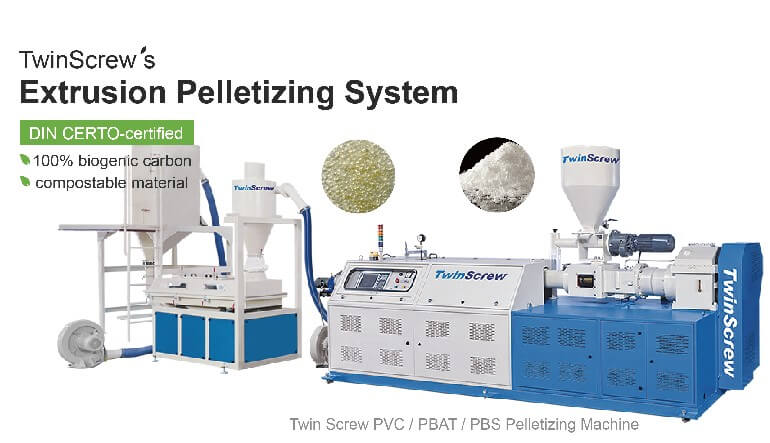 ---
Source: PRM-Taiwan Blog