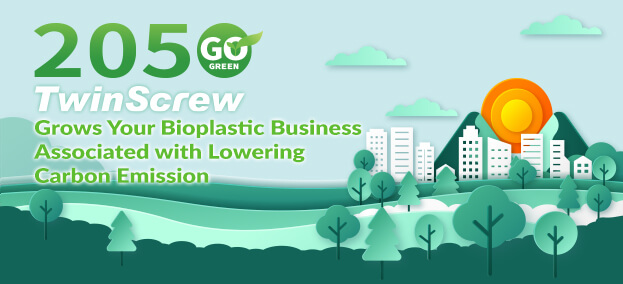 TwinScrew is committed to sustainable environment with devotion to the extrusion machinery for bioplastics.
By the year 2050, sixty percent of the carbon emission derived by plastic industry could be vanished if the annual growth of the demand on plastic products could be reduced 2% from now on. It is clear that reducing the use of plastics is the top priority in the perspective of circular economy. Accordingly, the use of regenerable biomass is one of the most effective strategies to reduce, even more to replace the demands of fossil plastics.
In 2025, the worldwide supply capacity of bioplastics will go to 2.87 million tons in a growth rate of 36% comparing to that of 2020. The Japanese government has also developed a plan introducing 2 million tons of bioplastics to the market along with implementing sustainable policies and guidelines for manufacturers, retailers and service providers.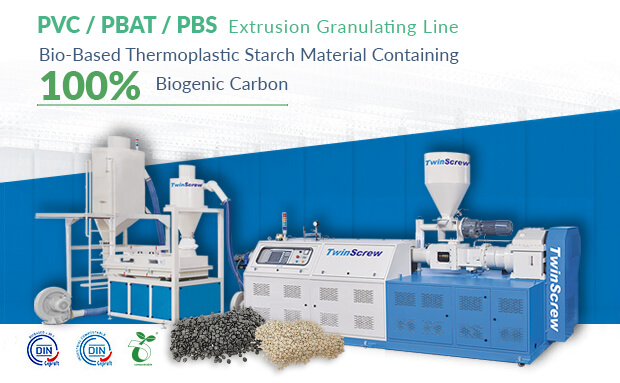 In addition to reducing the demand of fossil plastics, use of regenerable biomass, such as starch and cellulose, exhibits outstanding outcomes in reducing carbon emission by capturing air carbon. In 2018, a bio-based thermoplastic starch material containing 100% biogenic carbon manufactured by TwinScrew's extruder was accredited by DIN CERTCO. Fulfilling clients'multiple requirements, TwinScrew's extruders have been successfully applied to blend thermoplastic starch granules with various polymers including biodegradable and fossil plastics. In addition, cellulosic granules that are applicable for injection and extrusion molding processes have also been successfully manufactured by TwinScrew's extrusion machinery. For many years, TwinScrew provides tailor-made carbon reducing solutions by applying extrusion technologies to make materials composed of regenerable biomass.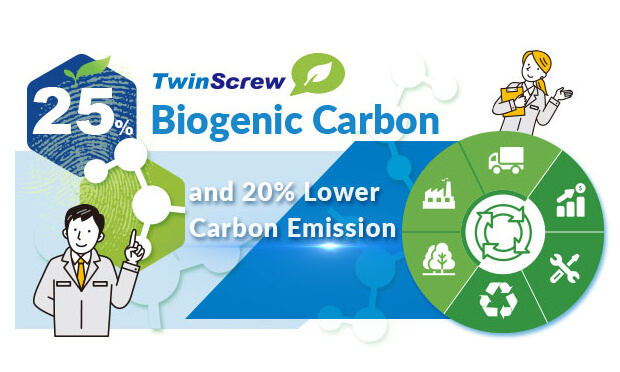 Due to the significant effects in reducing carbon emission, many applications blending starch- or cellulose-based granules with fossil polymers such as PE, PP or TPU have been developed. TwinScrew has acquired plenty of practical arts for wide range of process parameters. It reveals tremendous advantages to efficiently develop extruders operating optimal performance for clients. For example, a composite blended with thermoplastic starch and PE has been used to make LDPE film demonstrating a composition of 25% biogenic carbon and 20% lower carbon emission. In conjunction with the plastics recycling propagation and improved processing technologies for recycled plastics, the recycling rate and the mechanical properties of recycled plastics could be further improved. Ultimately users will be encouraged to consume the recycled plastic products.
It has been a successful business collaborating model in carbon emission reducing actions rallying TwinScrew, developers for eco-friendly materials and various molding manufacturers. Initiating from acquirement of raw materials, and formula development, TwinScrew integrates comprehensive knowledge in mechanics, material science, and optimization processes. The clients gain the benefits in shortening the stage of R&D and minimizing the waste in resources.
TwinScrew is eligible to design and manufacture the core components of extruders including screws, barrels and gearboxes. To overcome the challenges along with the global climate change, TwinScrew provides tailor-made extrusion system for making starch- or cellulose-based bioplastics that are effective carbon emission-reducing solutions. Together we will achieve the goal of net zero in carbon emission by 2050.
---
Source : PRM - Blog - TwinScrew is Committed to Sustainable Environment with Devotion to the Extrusion Machinery for Bioplastics