The investment on reducing carbon emission is becoming the most critical factor determining the sustainable growth of the manufacturing industry. Carbon neutrality achieved by 2060 has been committed by the countries contributing more than 75% worldwide GDP. The ultimate target decoupling the economy growth from the consumption of fossil resources is now leading a significant change in plastic industry.
Advantages on greener carbon footprints have been scientifically proved if the plastic materials are partially composed of regenerable biomass, in particular starch. It is estimated to trade off one ton of starch synthesis in plant against one and half tons of CO2 in air.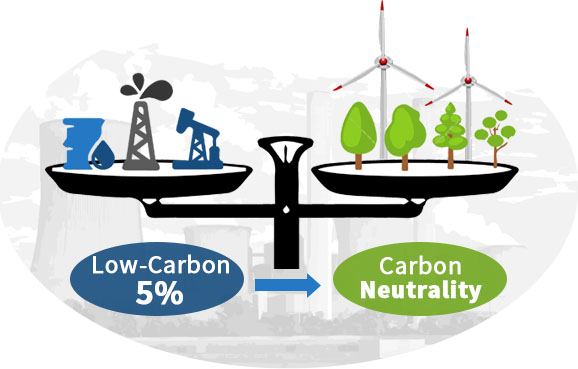 TwinScrew's extruding systems - pelletizing machines have been applied for making thermoplastic starch (TPS) granules by use of native starch for years. For the users, TPS granules can be easily blended with conventional fossil plastics such as PP and PE or biodegradable/compostable polymers such as PBAT, and PLA in presence of appropriate compatible agents.
A representative success is to apply the TPS granules to blend with PP or PLA in an amount of 15-20%. The resultant starch-based PP or PLA is then processed to single use cutlery by injection molding. It trades off 22.5%-30% carbon emission from the original products.
In addition, one of TwinScrew's clients successfully blend TPS granules with PBAT in a ratio as high as 50% and the TPS/PBAT composite is widely applicable for extrusion processes such as film blowing, wire netting, and tubing. Recently, a user blended TPS granules with proprietary materials in an amount of 20% for foaming. The foamed materials in high homogeneity are applicable for making the components of sports equipment.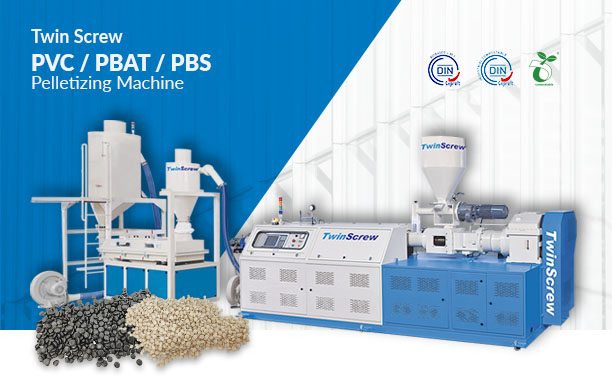 Many TwinScrew's clients are developing a wide spectrum of starch-blended materials including TPS/PP, TPS/HDPE, TPS/TPU, TPS/PBS as well as TPS/PLA. TwinScrew explores to apply our in-house made extruders for making TPS granules and TPS-based composites prior to the rising public concerns on the climate changes derived from excess CO2 emission.
Collaborating with many respectable clients working on various plastic materials, TwinScrew's team has accumulated plenty knowledge in the mechanical requirements specific for extruding native starch and starch-blended composites. We are capable to offer users a package of comprehensive solutions lowering the use of fossil-based polymers in efficiency and effectiveness. In consequence, the users can access to the market demanding eco-friendly products prior to the involvement of their competitors. Together we will make our world greener.